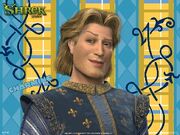 Prince Charming is the son of the Fairy Godmother, appearing as the secondary antagonist in Shrek 2. After her death, he becomes the main antagonist in Shrek the Third.
It is thought that he died in the third film since Rapunzel's tower fell on him; however, he apparently fell through the window, so this is probably false.
Ad blocker interference detected!
Wikia is a free-to-use site that makes money from advertising. We have a modified experience for viewers using ad blockers

Wikia is not accessible if you've made further modifications. Remove the custom ad blocker rule(s) and the page will load as expected.